The Parkside Story
Parkside Candy has been a part of Buffalo's history since the company was founded in 1927. Creators of homemade chocolates, old-fashioned lollipops, an infamous old fashion ice cream parlor, and their signature confection, Sponge Candy – all bring a feeling of home and nostalgia with each delicious bite.
Set Up Shop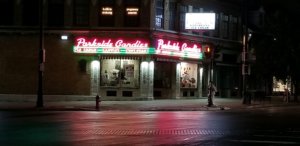 The original store was located at Main and W. Oakwood, until they decided to build a manufacturing plant and open a store at its current location, 3208 Main Street. Today, when customers walk through the double glass doors they are instantly returned to a pre-World War II glamorous candy shoppe and ice cream parlor. Filled with ornate architectural moldings, vintage wooden glass cases, two life-sized "street lamps", a checkerboard floor and antique tables and chairs, making it a true Buffalo landmark.
What's The Secret Ingredient? Family
Since opening, there have been two families who've run the business. A vision of the Kaiser family, they wanted a place to make high-quality candies, along with sandwiches, sodas and ice cream. It was later bought by Phil Buffamonte, owner of theYum Yum Shop and has become an entire family operation. Three generations have worked either behind the counter, at the factory or in the office, all striving to bring a memorable experience with nothing but the best ingredients – creating a recipe for success.
You Outta Be In Pictures
In 1983, Parkside Candy made its silver screen debut in the film "The Natural", starring Robert Redford and Glenn Close. The director used the original store to shoot various movie scenes. Store furniture from the Main Street location was used in filming "The Natural". If you look closely, Parkside Candy workers, such as Annmarie Ranger, were extras in the film. Buffalo was the background they needed to recapture the spirit of the 1930s, other sites included the Ellicott Square Building, old War Memorial Stadium and All-High Stadium.
Today, the Original Parkside Candies Company has expanded to distribute its products nationwide and to 5 retail store locations throughout Western New York, started an online business that also features Corporate Gifts and Wedding Favors, partnered with Louretta's Chocolate Laced Popcorn, and is even making a presence on Twitter and Facebook !